15W Wireless MagSafe Power Bank
---
Contact us to arrange a return within 30days.
Quality assurance, Your product is backed with Volta warranty.
Prop It Up: Features a versatile built-in foldable kickstand that keeps your iPhone 14/13/12 upright for a comfortable viewing angle.

Strong and Snappy: The super-strong magnet snaps magnetically into place to ensure perfect alignment and an efficient charge.

Slim and Compact: The sleek and slim design is only 0.5 inches (12.8 mm) thin, so you can single-handedly take calls, selfies, and more.

From Small to Smaller: Volta's new Mini Cell technology reduces the size of the overall battery without compromising power and charging efficiency.
All orders are shipped from our offices in the USA, UK, Australia and Netherlands.


United States Shipping
Expedited Shipping (2-3 business days)

Australia Shipping
Express Post SYD (1 - 3 business days)
Parcel Post SYD (3 - 6 business days)

United Kingdom Shipping
Royal Mail 24 (Next Business Day)

Europe Shipping
Direct Tracked INT (5 to 11 business days)

Canada Shipping
Direct Tracked US (5 to 11 business days)

Rest Of The World Shipping
Direct Tracked Int (5 to 11 business days)
Compatible with all MagSafe Compatible iPhones, Android Phones, Airpods

iPhone
14/Plus/Pro/Pro Max
13/Pro/Pro Max
12/Pro/Pro Max

Samsung
Galaxy S23/Plus/Ultra
Galaxy S22/Plus/Ultra
Galaxy Z Fold 3, 2 5G, Flip, Flip 5G
Galaxy S21/Plus/Ultra/FE
Galaxy Note 20 Ultra
Galaxy S20/Ultra/FE
Galaxy Note 10/Plus
Galaxy S10/Plus/E
Galaxy Note 9
Galaxy 9/Plus

Google
Pixel 7/Pro
Pixel 6/Pro
Pixel 5
Pixel 4/XL
Pixel 3/XL

LG:
LG Velvet
LG V60/50/40/35/30
LG G8, G8X
LG G7

Xiaomi:
Xiaomi 12, 12 ProXiaomi Mi 10T ProOnePlus 9, 9 ProOnePlus 8 ProSony Xperia 1 iii

Note: Not compatible with non-magnetic phone cases, such as OtterBox defender cases. Not recommended to use with iPhone 13/12 mini.
1 x VoltaGo 15W Wireless MagSafe Power Bank
The Most Versatile
4-in-1

MagSafe Compatible Wireless Power Bank
Strong Magnetic suction to Ensure Super Secure Holding
MagGo comes with strong N54 magnets that lock onto the built-in magnets of iPhone 12|13|14|15 series to provide a secure hold. No need to worry about power failure when charging your iPhone with MagGo in your bag. 
Ditch the Cables and Enjoy Snap-and-Go Magnetic Wireless Charging
MagGo works seamlessly with the iPhone 15 (Pro/Pro Max). Simply snap MagGo onto the back of your iPhone 15 with perfect alignment every time, then you can get a quick and reliable power boost (7.5W high-speed magnetic wireless charging) that doesn't block your camera while you're on-the-go. No need for cables or precise placement. You can also enjoy total freedom with effortless detachment.
Works with MagSafe Compatible iPhone Case
No need to sacrifice style over substance as long as your iPhone 12 has a Magsafe-compatible case. Simply snap your iPhone 12 onto the charging pad and enjoy the effortless charging experience.
Perfect for Playing Game
MagGo helps prevent an awkward cable from interrupting your grip. You can always enjoy a smooth and uninterrupted gaming experience.
15W Wireless Charging Pad for iPhone, Android and AirPods
MagGo delivers a powerfully fast energy to go (15W Max). MagGo is compatible with all Qi enabled devices. Fast charge your AirPods, supported iPhone and Android devices at 5W, 7.5W and 10W power, respectively. Internal circuitry will automatically detect how much wattage your devices require, so there's no risk of damage.
18W PD Wired Fast Charging
Equipped with a 18W PD Type-C port, MagGo can fast charge two devices simultaneously by utilizing both the wired and wireless options. MagGo will charge your iPhone 14 from zero to 50% in just 30 minutes through wired charging. It takes about 2 hours for MagGo to become fully charged.  
Versatile yet Pocket Friendly
The compact design is the key to its portability. MagGo is actually only around 68mm long and 17.2mm thick, making it sufficiently small for a pocket or bag.
Charge Phone and Power Bank itself Simultaneously
MagGo supports pass-through charging, allowing you to charge the power bank itself and your device at the same time. Helpful when you do need to go mobile at the last minute, making you well prepared with a fully-charged power bank.  
Safety is Our First Priority
MagGo offers eight different types of protections, including overcharge protection, voltage protection, temperature monitoring protection, and more. Ensuring safety for the device and its users.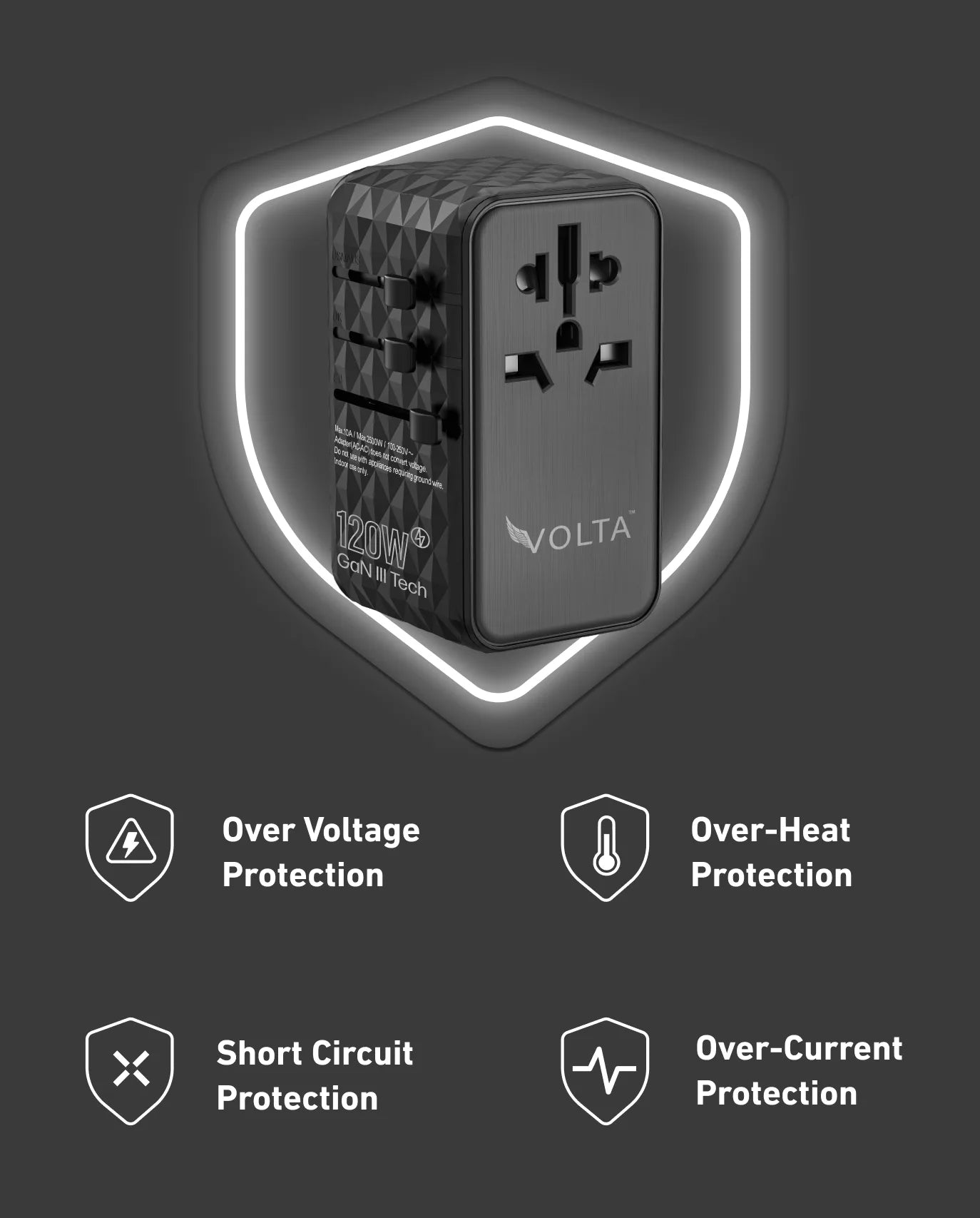 FAQ
Still, have questions? Send us an e-mail - care@voltacharger.com
Our customer support is available Monday to Friday: 8am-8:30pm.
Average answer time: 24h
Why is the Volta Cable better than other magnetic cables in the market?

When it comes to the uniqueness of our design, the VOLTA Cable features 2 perfectly aligned N52-grade Neodymium reversible magnets in a 360° orientation – at the magnetic end of the cable – which means powerful connection, instantly! We also designed the VOLTA cable to provide hassle-free charging for all your USB Type C (Android/Universal), Lightning (Apple) and Micro USB (Android/Universal) devices. This means, ONE VOLTA cable will connect you to almost every device out there! We also offer a LIFETIME WARRANTY on all VOLTA products! We invite you to view our reviews on our website and to search for reviews of VOLTA Charger on Youtube to see what others are saying about VOLTA!
Since your devices take a lot of daily abuse; we decided to make the VOLTA Spark extra durable.
Designed for versatility with Military-grade materials. With over 40,000 bend life-span. It's engineered for extreme durability and heavy everyday use. We added premium neodymium magnets to ensure instant connection. Making Spark more durable than any other cable on the market.
How strong is the magnetic connection between the Volta Spark?

We used the world's strongest magnetism (N52 Neodymium magnets on both the tips and cable, providing a strong pulling force). The VOLTA Spark was designed to be the strongest magnetic fast charging cable on the market, so strong in fact that it can even lift your iPad without disconnecting!
Will the magnets in the Volta products damage my devices in the long run?

No, VOLTA magnetic products such as our cables and adapters will never damage your phone. The magnetic strength is just enough to offer a strong connection but not strong enough to damage your phone, you have nothing to worry about! On a side note, it's recommended that our cables are used with the laptop's Original Equipment Manufacturer (OEM) USB C power Brick and you can get the Volta Giga to ensure best results.
Does Volta Cable support data transfer, Android Auto and Apple Car Play?

Yes, the Spark cable supports DATA TRANSFER @ 480mps, Android Auto, and Apple CarPlay.
Are all magnetic tips compatible with any Volta cable?

Volta Spark 60W tips are not compatible with Spark 100W or Volta 2.0 cables. However, all VOLTA 2.0 products and their tips are cross compatibility with other products in the VOLTA 2.0 product range.
Please, check the compatibility chart for more info.
Will Volta magnetic cable affect the charging speed of my device?

VOLTA will not alter the charging speed of any device. It can, however, handle any charging speed of any device (adapter).
As a result of the built-in intelligent recognition system, the VOLTA Spark is able to adapt to varying voltages in different devices. VOLTA Spark will charge your phones, smartphone (iPhones/Androids), speakers, tablets, MacBook and MacBook Pro without any compatibility issue whatsoever.
Our customer support is available Monday to Friday: 8am-8:30pm.
Average answer time: 24h