Free Volta XL
Feed A Child
Every dollar spent puts food in the stomach of a child. According to WHO, 45% of deaths among children under 5 years of age is caused by inadequate nutrition. The effects of this situation grows into adulthood with kids who find a way to survive their malnutrition. We want to put good food in the mouth of as many kids as possible.
The majority of profits will go to support OzHarvest in the quest to stop food waste and provide good food to those with less. Learn about the project.
Whether it's giving you a charging cable that makes your life a bit easier, or its giving a poor child a meal so they can eat, we believe in improving human experiences - VOLTA
About OzHarvest
OzHarvest is Australia's leading food rescue organisation. OzHarvest collects quality excess food from various commercial outlets and deliver them to the more than 1300 charities that they support in all of Australia.
OzHarvest has four pillars that acts as the foundation for all they do:
Rescue: using redistribution of quality excess food to eliminate hunger and food waste.
Educate: teach healthy eating, nutrition, prevention of food waste and sustainability.
Engage: the increasing "yellow army" of volunteers are the heartbeat of OzHarvest.
Innovate: using technology to develop food rescue models that can be utilized all around the globe.
Magnetic USB-C Cable that works for your MacBook Pro
The VOLTA XL cable is a new fast-charging USB-C cable that includes a built-in magnetic connector much like the MagSafe connector Apple removed from its MacBooks in the transition to USB-C for power.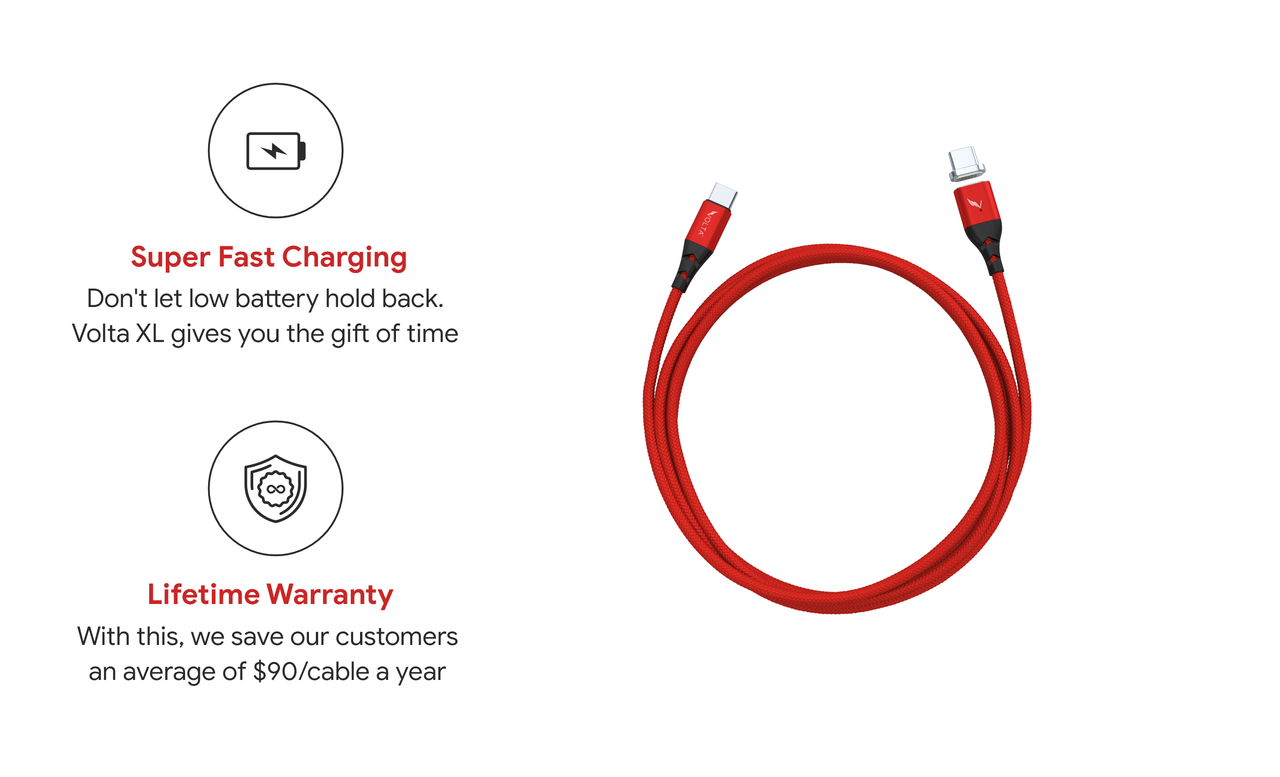 Bringing MagSafe-like magnetic connector back to MacBook
The VOLTA XL cable is a new fast-charging USB-C cable that includes a built-in magnetic connector much like the MagSafe connector Apple removed from its MacBooks in the transition to USB-C for power. It is a singular charging system that works with MacBook Pros, other USB C devices and looks great doing it. It's a sleek charge and sync cable that's a standard USB C on one end, and an open magnet on the other.
It comes with one magnetic tip that can turn the open end into a USB-C. Just install the magnetic connectors into your phone, tablet, or laptop ports, and you'll be able to instantly switch the same VOLTA XL cable between your different devices whenever you need to. The connectors are strong enough to stay in your devices without falling out but can be removed with no extra tools or wear and tear.
Never worry about the wear and tear of daily use
The sturdy, anti-scratch aluminium shielding around the heads ensures the lasting, pristine condition of the connectors. PBV braiding and intelligent strain-relief collars on the cable give it astounding agility, strength, and flexibility, and two perfectly aligned, N52-grade Neodymium reversible magnets in 360° orientation – at both ends – deliver an immediate, powerful connection in an instant. No more stabbing your device to death trying to connect for a charge. Just get the end of the cable close to the connector, and it snaps right into place.
Built For Speed
70% faster than 5W charging cable when charging a Nexus 6P or Google Pixel XL or similar power delivery device from 0%. Even with its magnetic connector, it delivers enough to charge a MacBook Pro. It is recommended to use Volta XL cables with the laptop's Original Equipment Manufacturer (OEM) USB Type C power Brick.
XL USB Type C Dimension
Volta 2.0 has redefined what it means to charge multiple devices with one cable. It supports charging and data transfer on a wide range of devices, epitomising the saying "One cable for all USB devices".
Device Compatibility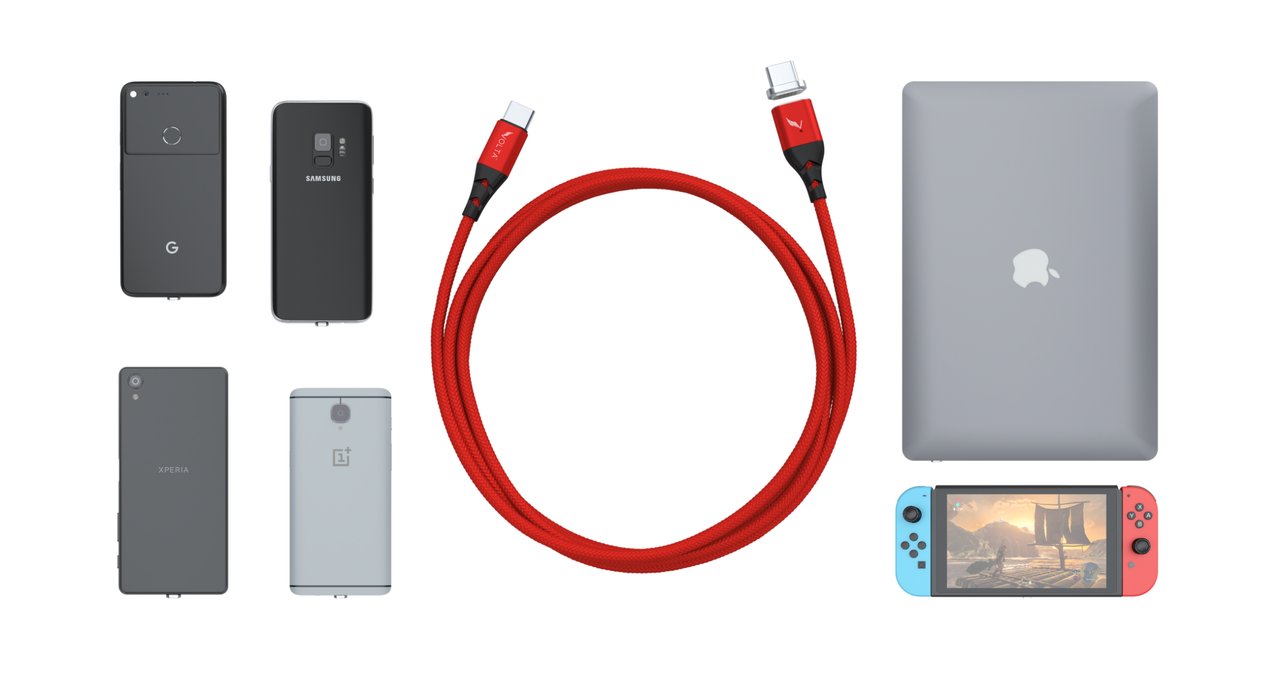 Apple Laptops
15" Macbook Pro
13" Macbook Pro
12" Macbook Pro
iPadPro 2018
MacBook Air
MacBook Pro 2018
USB-C Smartphones
Samsung S8/S8+/S9/S9+
Samsung Note 8, 9
Huawei P9 & P10
Pixel /Pixel  2XL/ 3XL
HTC 10
Sony Xperia X
LG Nexus 5X
Xiaomi Mi 6s
One Plus 3
e.t.c
Other USB-C Laptops
Chromebook 2
Samsung Notebook 9
HP EliteBook Folio
Huawei MateBook X
HP Spectre 13
Microsoft Surface Book
Lenovo ThinkPadHP Chromebook 13
e.t.c
Note* 

- All the Volta 2.0, Volta Original Cables, Tips, and previous products from Volta are 
NOT compatible 
with the VOLTA XL (Vice Versa). 
- For MacBook Pro users it is recommended to use the Volta XL with 67W OEM (Original Equipment Manufacturer) Apple charger to get the best out of you Volta XL.