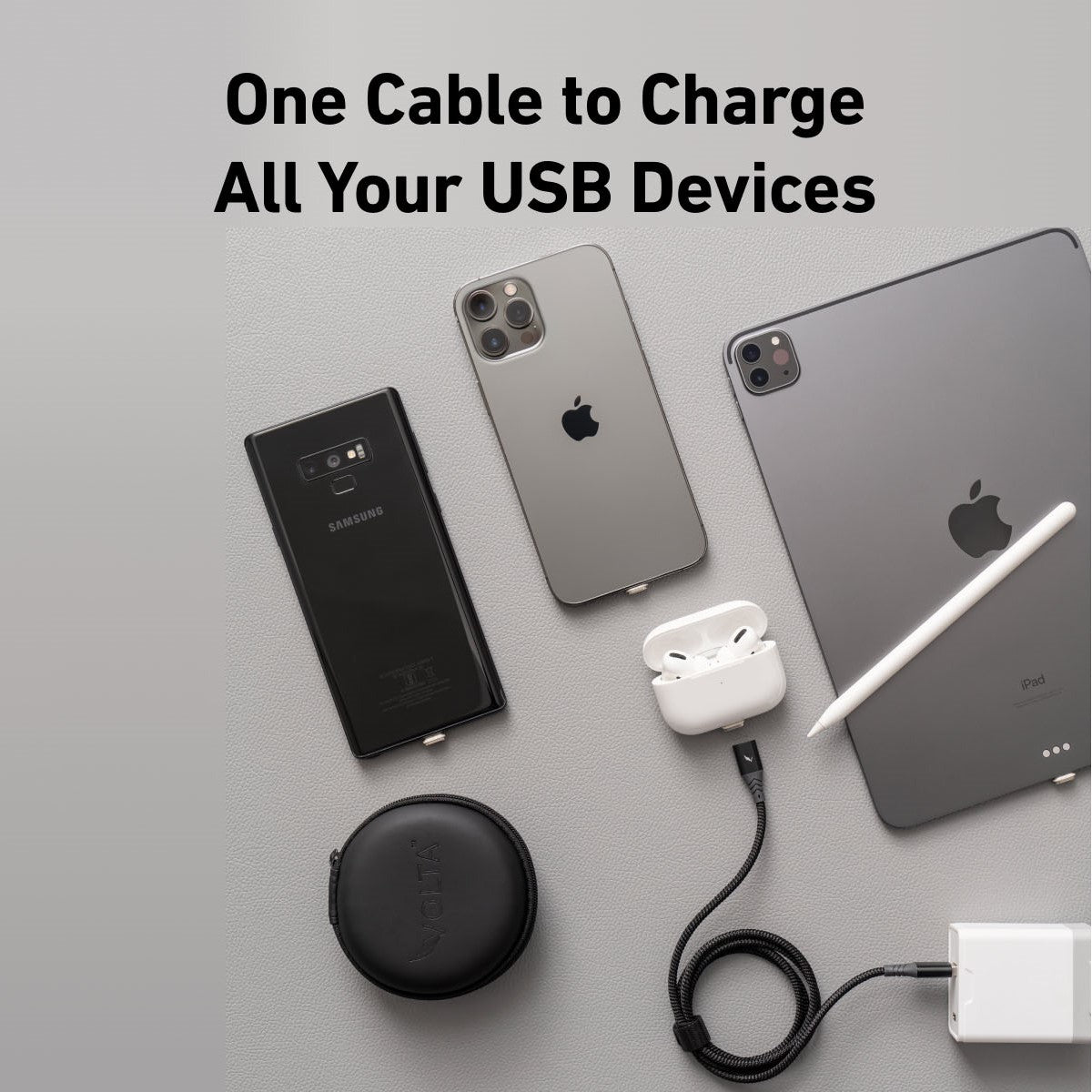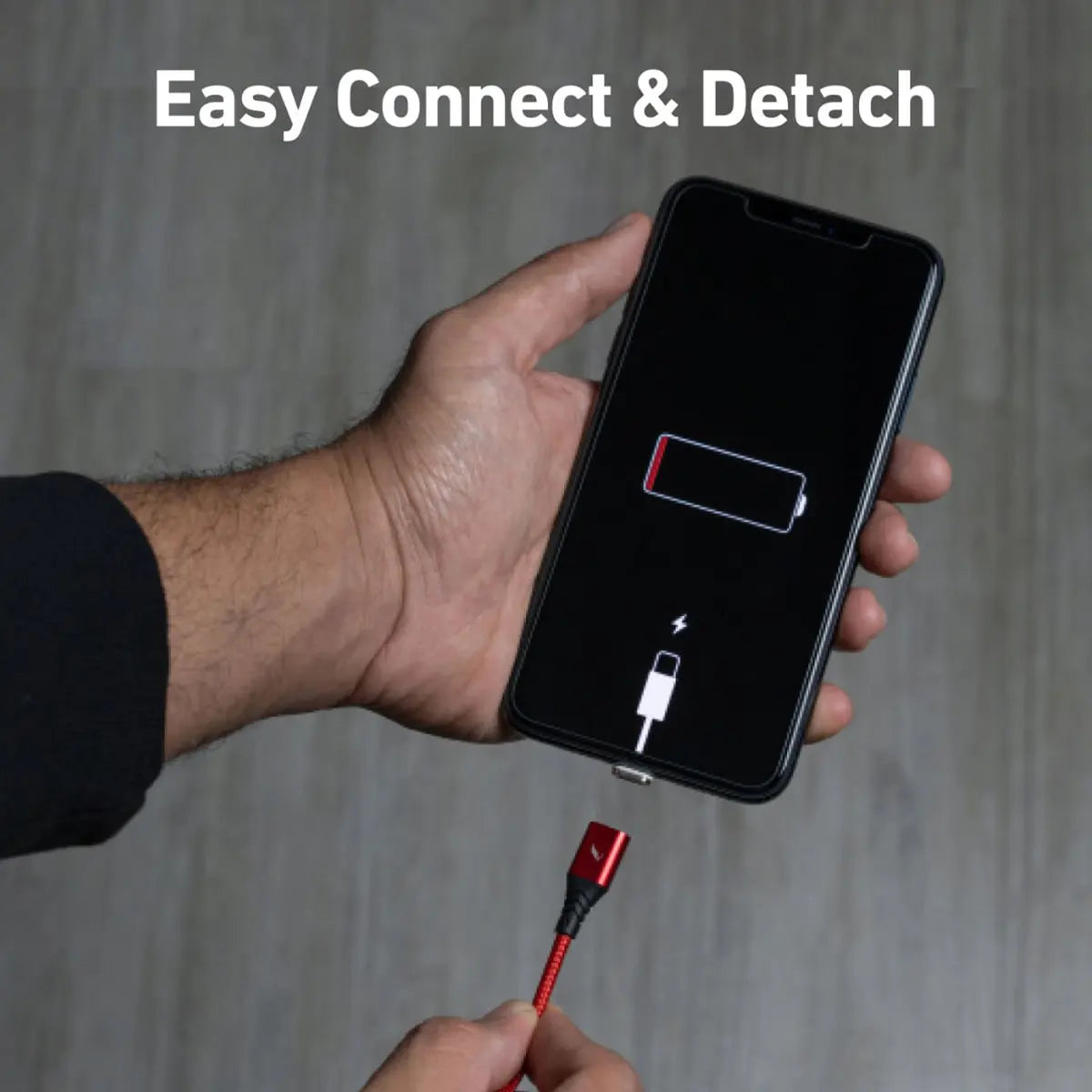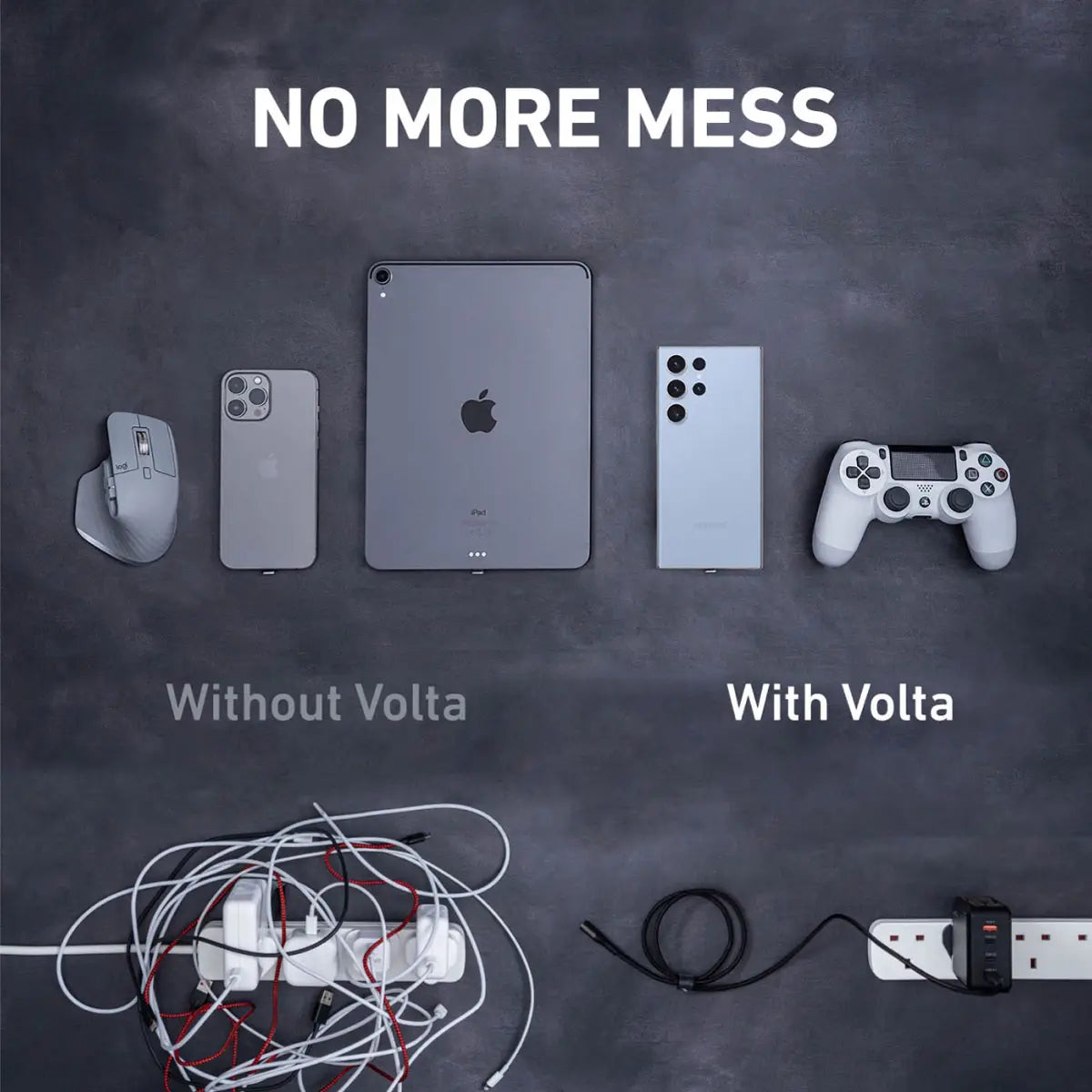 Fast Charge with VOLTA 2.0
---
All orders are shipped from our offices in the USA, UK, Australia and Netherlands.


United States Shipping
Expedited Shipping (2-3 business days)

Australia Shipping
Express Post SYD (1 - 3 business days)
Parcel Post SYD (3 - 6 business days)

United Kingdom Shipping
Royal Mail 24 (Next Business Day)

Europe Shipping
Direct Tracked INT (5 to 11 business days)

Canada Shipping
Direct Tracked US (5 to 11 business days)

Rest Of The World Shipping
Direct Tracked Int (5 to 11 business days)
VOLTA 2.0 revolutionizes the way you charge your devices and how many cables you need in your house or office. VOLTA 2.0 gives you super-fast charging for your Apple Lightning, Micro USB Android and USB-C devices.

The heavy duty, tangle-free, braided nylon cable is virtually unbreakable and also offers data transfer capabilities. Jump from device to device seamlessly with the magnetic charging system and versatile charging tips. If you have multiple devices with different ports then the VOLTA 2.0 is for you! Be sure to choose the correct product for you and your devices, take a look at our comparison chart if you're unsure which cable is right for you

Fast Charging QC 3.0
Huawei Dash/Warp Charge
OPPO VOOC Flash Charge
Data transfer USB 2.0
Snag proof (like MagSafe - Pets Proof & Kids Proof)
CarPlay & Android Auto
VOLTA lifetime warranty & 30 day money back guarantee
2.0 Cable.
3 Magnetic Tips (USB-C, Micro-USB, Lightning)
Tip Remover.
Meet Volta 2.0
The Versatile Magnetic Charging cable for Every USB Device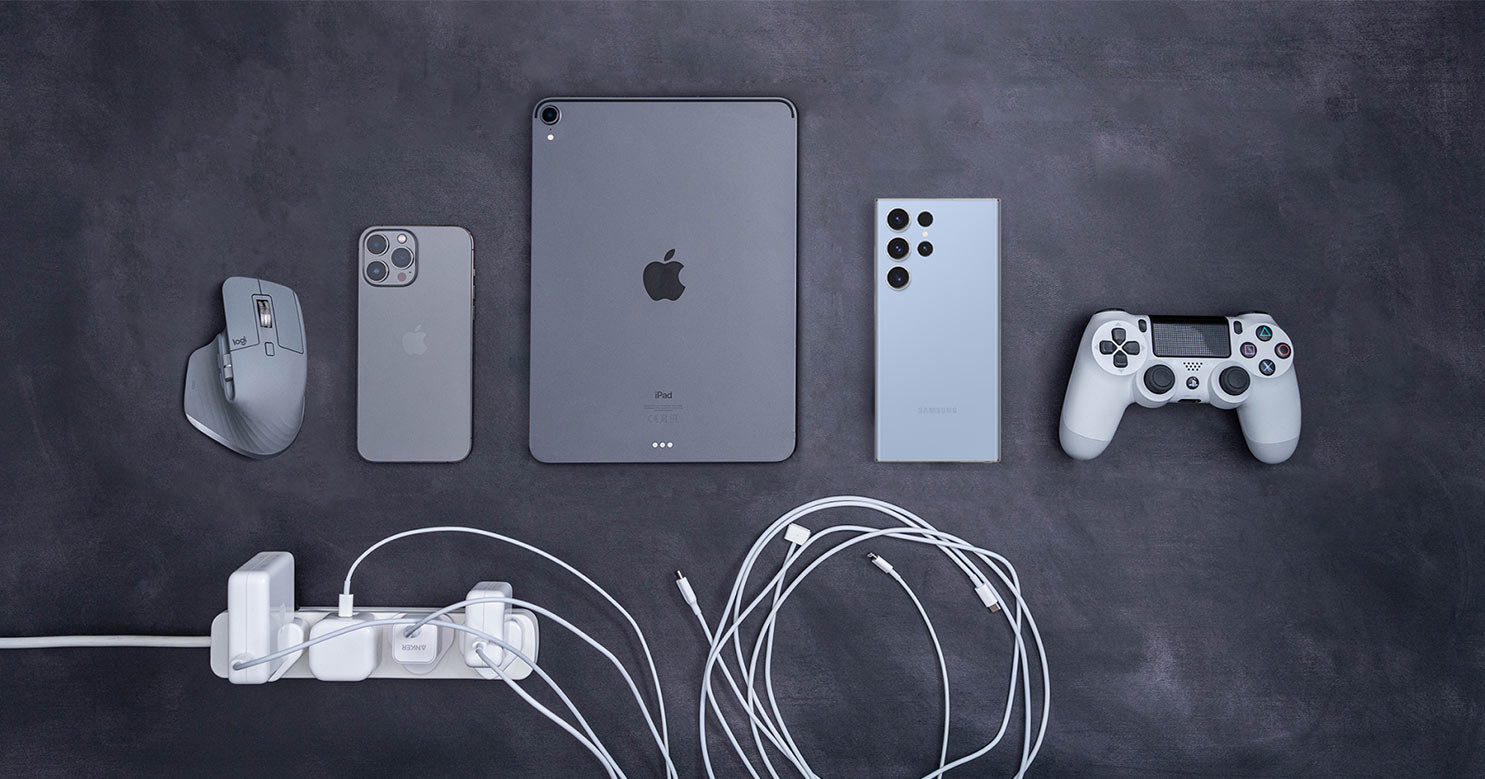 Without Volta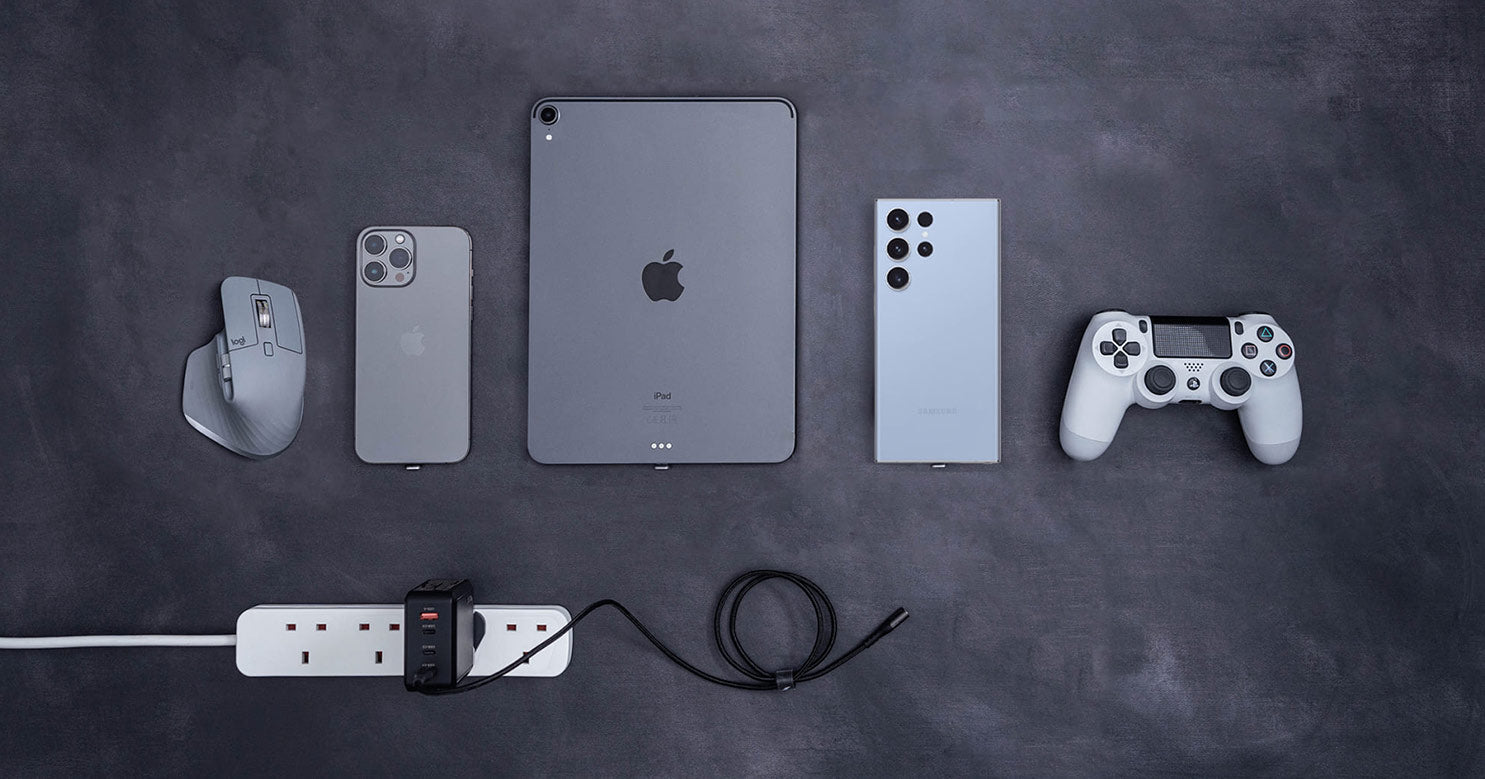 With Volta
Easy to Connect & Detach
The snag-safe feature allows you to easily connect and disconnect, lowering the risk of tripping over cables and damaging your devices while saving you money on unnecessary repairs.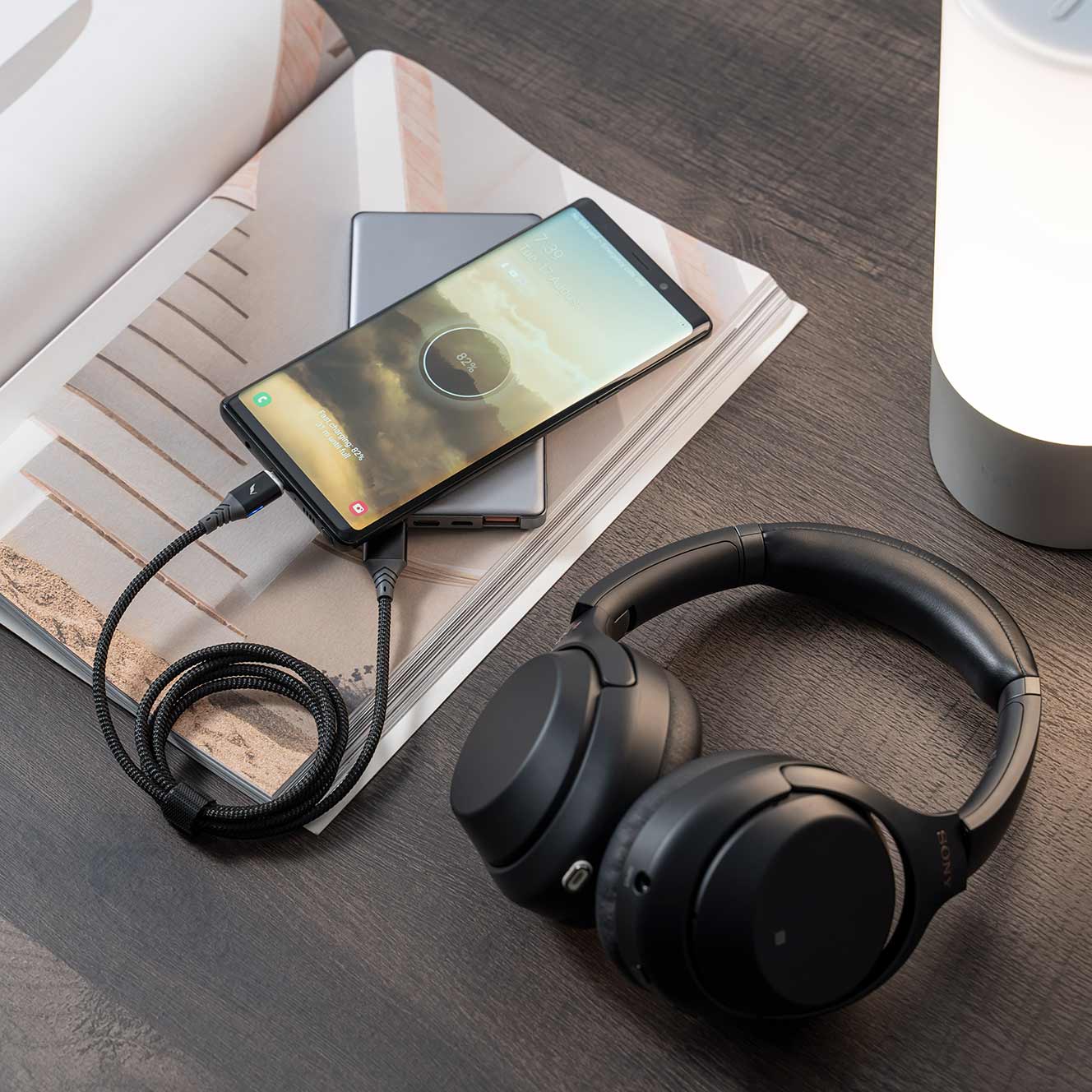 Fast Charging and Data Transfer
Experience super fast charging and seamless data transfer with the VOLTA 2.0 cable - the ultimate upgrade from your typical USB-A cable. Compatible with Warp Charge, Fast Charge, Dash Charge, Super Charge and Quick Charge.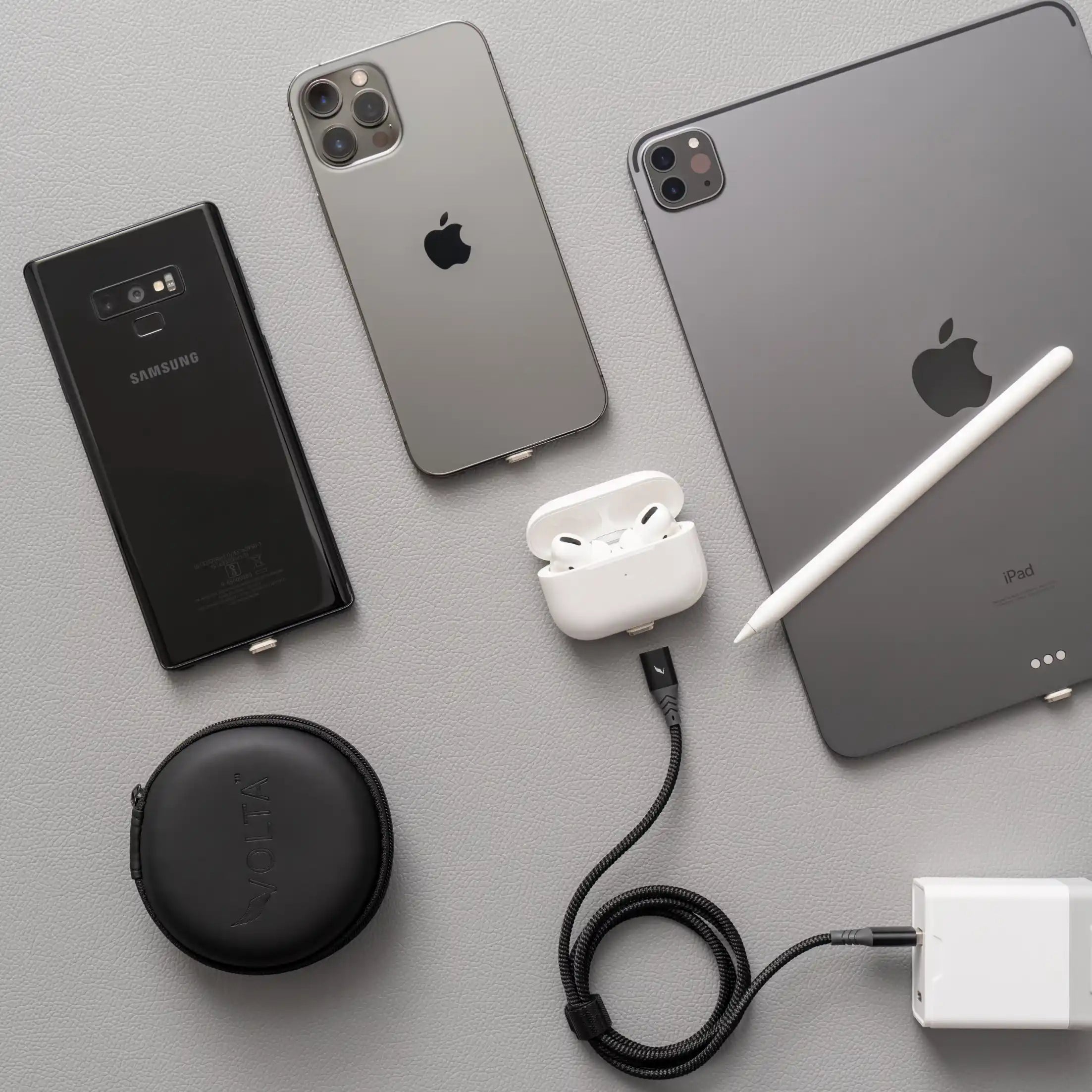 One Cable to Charge All Your USB Devices
Made for your iPhones, Tablets/iPads, iPods, Android Micro-USB & USB-C Phones (QC 3.0), Game Controllers and All Micro-USB Devices.
Built for Extreme Durability
Say Goodbye to Messy and Frayed Cables
As seen on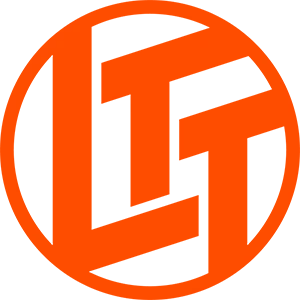 Hear from our happy customers
FAQ
Still, have questions? Send us an e-mail - care@voltacharger.com
Our customer support is available Monday to Friday: 8am-8:30pm.
Average answer time: 24h
Why is the Volta Cable better than other magnetic cables in the market?

When it comes to the uniqueness of our design, the VOLTA Cable features 2 perfectly aligned N52-grade Neodymium reversible magnets in a 360° orientation – at the magnetic end of the cable – which means powerful connection, instantly! We also designed the VOLTA cable to provide hassle-free charging for all your USB Type C (Android/Universal), Lightning (Apple) and Micro USB (Android/Universal) devices. This means, ONE VOLTA cable will connect you to almost every device out there! We also offer a LIFETIME WARRANTY on all VOLTA products! We invite you to view our reviews on our website and to search for reviews of VOLTA Charger on Youtube to see what others are saying about VOLTA!
Since your devices take a lot of daily abuse; we decided to make the VOLTA Spark extra durable.
Designed for versatility with Military-grade materials. With over 40,000 bend life-span. It's engineered for extreme durability and heavy everyday use. We added premium neodymium magnets to ensure instant connection. Making Spark more durable than any other cable on the market.
How strong is the magnetic connection between the Volta 2.0?

We used the world's strongest magnetism (N52 Neodymium magnets on both the tips and cable, providing a strong pulling force). The VOLTA 2.0 was designed to be the strongest magnetic fast charging cable on the market, so strong in fact that it can even lift your iPad without disconnecting!
Is the Volta 2.0 cable compatible with the Volta Spark tips?

No, the Volta 2.0 cable is ONLY compatible with the Volta 2.0 tips.
Please, check the compatibility chart for more info.
Will the magnets in the Volta products damage my devices in the long run?

No, VOLTA magnetic products such as our cables and adapters will never damage your phone. The magnetic strength is just enough to offer a strong connection but not strong enough to damage your phone, you have nothing to worry about! On a side note, it's recommended that our cables are used with the laptop's Original Equipment Manufacturer (OEM) USB C power Brick and you can get the Volta Giga to ensure best results.
Our customer support is available Monday to Friday: 8am-8:30pm.
Average answer time: 24h